Public Policy Instruments
Background
The successful acceleration of social innovation requires effective public policy instruments. It needs to be recognised, however, that the advanced conceptualisation of social innovation in its economic context is expected to present significant challenges to traditional modes of policy production. Flexible policy regimes capable of supporting the spread and growth of successful examples of social innovation while accounting for local specificities and contexts as well as varying welfare regimes are of vital importance to support and sustain social innovations. Complementarily, the often-neglected specifics of New Member States will be taken into account.
Objectives
SIMPACT is strongly focused on the enhancement of evidence-based policy in relation to social innovation. This work package provides the focal point through which evidence of what works and what inhibits social innovation in practice is analysed in terms of the policy enablers and constraints. It will articulate the strategic choices available to policy makers and deliver generalisable recommendations designed to maximise economic and social outcomes of SI. Forasmuch, the WP's objectives are threefold:
1It aims at elaborating a mode of policy production which reflects the characteristics of social innovation including its economic dimensions, and in which policy makers are active participants.
2It will develop an understanding of the extent to which cases of policy intervention that are effective (or not) in animating and sustaining social innovation diverge (or not) from traditional forms of public sector activity.
3It will develop public policy instruments and translate them into practical guidelines identifying the roles of the different government levels.
Methodology
In an initial step a Go to Policy Dialogue1st policy dialogue workshop involving invited policy practitioners was conducted to generate hypotheses about the challenges posed by social innovation to policy makers at all territorial levels (regional, national and EU), their economic underpinnings and the need for a departure from traditional modes of public intervention and regulation. The findings will feed into the design of fieldwork methodologies in Go to Collecting EvidenceWP3
.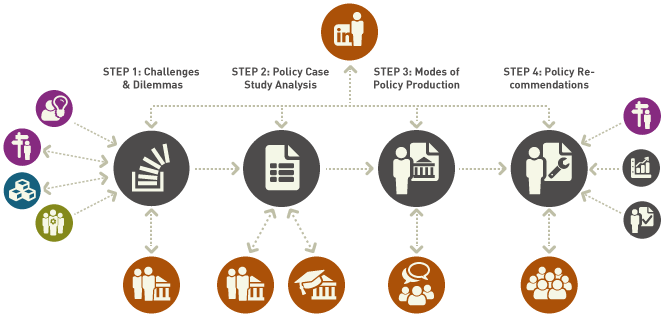 Policy case study analysis (step 2) is applied to test the derived hypotheses. More precisely, the regulatory frameworks, proactive interventions and infrastructure provision of cases collected under WP3 will be identified and tested through deskwork and dialogue with other project partners. The outputs will be developed further by means of a Go to Policy Dialogue2nd policy dialogue workshop and three Go to Action Learningaction learning sets bringing together relevant policy representatives from each case over a seven-month period.
Drawing on outcomes of the previous two steps, a two-day «think tank» will be carried out to develop a conceptual model of policy production informed by and appropriate to the animation, resourcing and scaling of social innovation identified in Go to ConceptsWP4. The model will be further developed and refined through deskwork and the use of social media tools, including the Go to LinkedInLinkedIn group.
Finally, the outcomes of the action learning sets, the 3rd simulation iteration Go to SI Behaviour Scenarios(WP2), the evaluation toolbox Go to Impact Analysis(WP7) and social innovation indicators Go to SI Indicator Sets(WP5) will be synthesized to refine the model and translate it into a practical policy toolbox including recommendations for policy makers at EU and other territorial levels, and across different sectors. These will be presented and discussed at the «1st European Social Innovation Policy Forum» inviting practitioners to explore the toolbox practical implications for their own areas of work.